Digital Print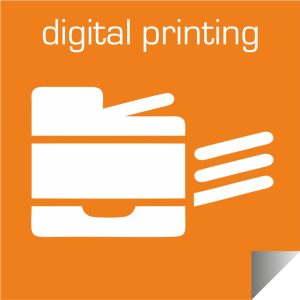 Short runs, variable data, tickets, multi page booklets or brochures and one off prints or samples require digital printing. It's the most cost effective, economical and sometimes most environmentally friendly way of producing a short run of print.
Generally for 1000+ prints it would be most economical to print lithographically but we will decide what process is best for your printing requirements depending on the run length and image quality required. The print times are also very quick and we aim to print within 24 hours on most standard digital printing orders.
Our Konica digital presses are fast, reliable and produce a print quality to equal and sometimes surpass traditional Lithographic printing. At Digiprint we have over 15 digital presses and printers ranging from mono laser, full colour digital, plan printers and wide format poster printers so our capacity to produce your printing on time is unrivaled by many others.
Quality, Economy and Environmentally assured:
Digiprint utilise finishing equipment that includes: state of the art laminators, booklet making machines, round cornering technology, creasing, perforating and folding, and even gluing and padding. Therefore you can expect both the highest quality print and fantastic finishing tailored to your requirements.
Our paper is sourced from Forest Stewardship Council certified suppliers and manufactured using environmentally sustainable procedures. Our lithographic printer inks are entirely vegetable based and our digital presses use dry toner based inks and are naturally 'green'.
Our waste paper and used rags are all recycled. We also recycle any liquid waste we produce. Hence every aspect of our business is geared toward environmental sustainability. You can purchase knowing you'll receive the 'greenest' and most ethical print products available.
Showing all 2 results