Banners are a great cost effective way to communicate your message to a wide audience where size and scale are required. We print banners in-house on our eco-friendly Latex printers and they can be seam sealed and eyeletted for hanging safely and securely.
Banners can be produced in any bespoke size up to a maximum width of 1500mm and up to 10m long in one piece.
Scrim banner is tough, durable and above all, long lasting. digisigns can print your banners quickly and cost effectively in-house. We use the latest high quality machines to print vibrant colours that are fade resistant and scrim reinforced heavyweight material for a quality banner. Beware of cheap online only options, they can often not be what you expected!
Get our most popular 3x1m banner for just £87 reduced from £114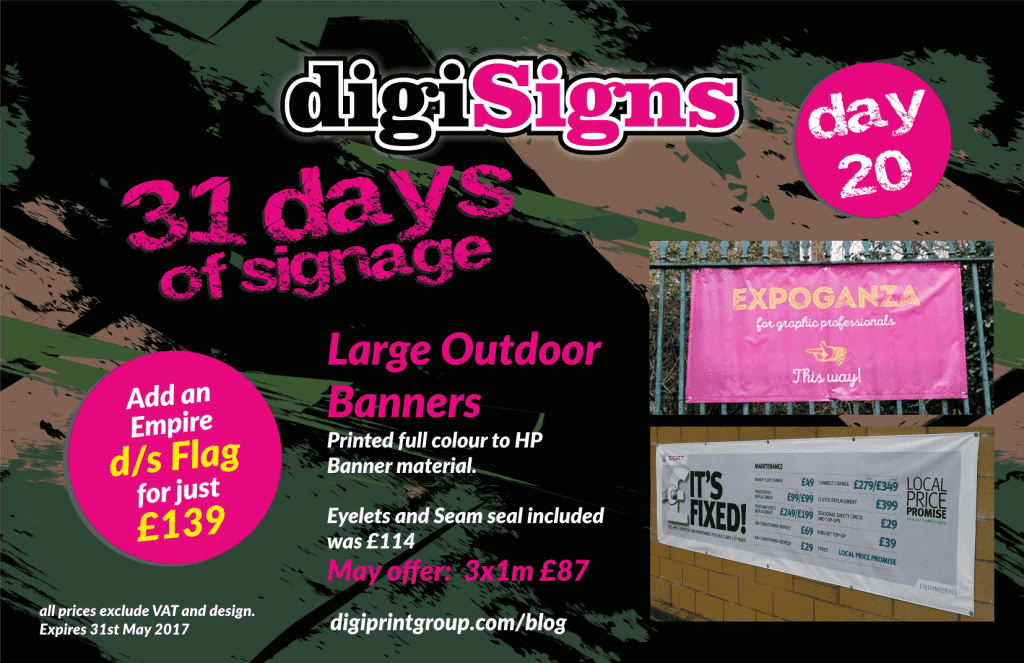 Banners are everywhere these days and probably the cheapest form of wide format printing that gets you noticed.
We print in-house using our solvent ink machines to thick quality grade banner materials and flag scrims.
Pop in to our showrooms to see samples of hardware available and to discuss your requirements.
For £10 per linear metre the banner can be seam sealed, this protects the edges and prolongs the banner. Adding eyelets not only allow you to hang the banner, but also strengthen the corners. Alternatively corner clamps can be used, or poster hanger bars are also available.
510gsm Scrim Banner
Printed environmentally with Latex inks
Full colour coverage or single colour text
1.2m wide by any length
Seam sealing and eyeleting an option
Ask about our double sided banners
Suitable for high streets, fences, displays, shop signs, promotional events
Design services available.