As spooky as they sound, ghost signs are quite fascinating. Researching the origin of your building can uncover how old these faded signs are and what businesses once were where you are now standing.
This is exactly what we decided to uncover when we found a ghost sign on the side of our Chippenham shop.
What are ghost signs?
Ghost signs are aged signage that were originally painted onto buildings to promote a ancient business or a past product.
They can be found all around cities, towns, and villages, if you look close enough to find them. They act as an aesthetic glimpse into the building's commercial past.
Digiprint Nettl's ghost sign
As you'll see from the image below, on the side of our building, we have the remains of a sign that once was present so many years ago, from at least 1910. After taking a quick historical trip, we can show you what once stood before us.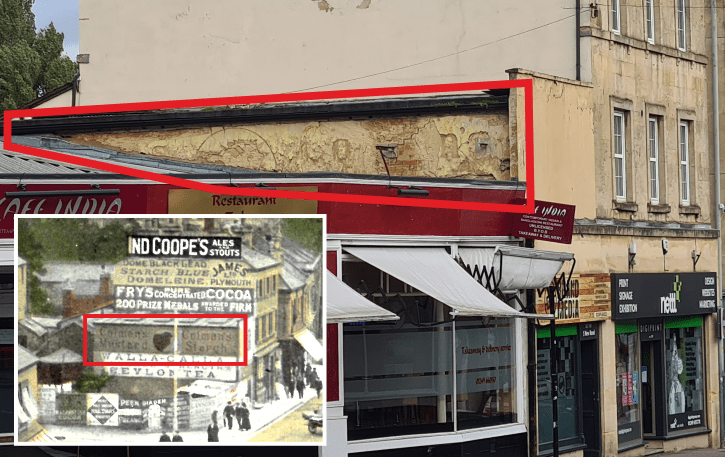 5 New Road History of ownership and use
After discovering our Ghost Sign, we asked Chippenham Museum to help us with a history project to investigate past usage and owners of our building. We uncovered that the building dates back to at least 1877 and was predominantly a grocery store for most of it's life. Below is a quick overview of the buildings history and owners:
In 1792 the "New Road" was constructed to change the road layout and subsequently to accommodate the building of the Great Western Railway which opened in 1841. From the 1840 Tythe Map, the area between what is now modern Station Hill and Monkton Hill (then Black Horse Hill) was a sawmill.
The Sawmills backed onto the weir (now long removed and underneath Avon Reach offices and the bridge shops) This area was mainly industrial with flour mills, store houses and the Nestle condensed milk factory utilising access to the river.
The mill burnt down in early 1850's and the area was cleared for redevelopment to make way for modern Station Hill to service the GWR railway station, St Mary's Place (and subsequent chapel built 1855).
5 New Road (PEKIN HOUSE) which is our current location has a first recorded owner and usage in 1877.
1877-1883 "Little and Burnett Grocers"
1884-1915 "O.J. Burnett Grocers"
(in 1895 the building was extended with a single storey to the left had side in part of the stores yard to increase the floor size by 50%. By 1910 a second storey was added onto this extension. By 1921 the stores yard was sold and a new building 5a New Road was built.
1933-1970 "Mason and Gillett Grocers"
plus 1967 – "L.F. Baillieu, Baker and Confectioner" in the second extension to the building
1970-1972 "West Country Cleaners"
plus "Singer Sewing Machines" in the second extension to the building
1973-2001 "Gemini Kitchens, Bathrooms & Appliances"
2002-2014 "Gemini Kitchens" under new management.
plus "Euronics Electrical" in the second extension to the building"
2015- Digiprint Nettl – Web, Print & Signs
2020 Digiprint Nettl and Brand Media
Special thanks
We'd just like to give a special thanks to Chippenham Museum for helping us retrace the past of our building and the history of Chippenham. If you're looking to uncover anything from Chippenham's past, they've got the answers! Equally, if you ever find anything historical and don't know what to do with it, send it over to the museum – no matter how big or small.

Looking for professional signage that'll stand out among the rest? Contact our team at DigiPrint Nettl for information on how we can help you.