NETTL SIGNS & GRAPHICS STUDIO
Nettl Signs & Graphics are showcasing more signs, graphics print, promotion, communication and exhibition products and services than ever before, so it's easier to find exactly what you're looking for.
NETTL SIGNS & GRAPHICS IN CHIPPENHAM
If you're responsible for staying ahead of the competition, promoting a cause or getting an important message across. We can help you find the right solution.
Everything from translating your ideas into workable specifications, original design and creative artwork, state of the art wide format printing. 24 hour manufacturing and fabrication, right through to successful UK wide transport, installations and storage.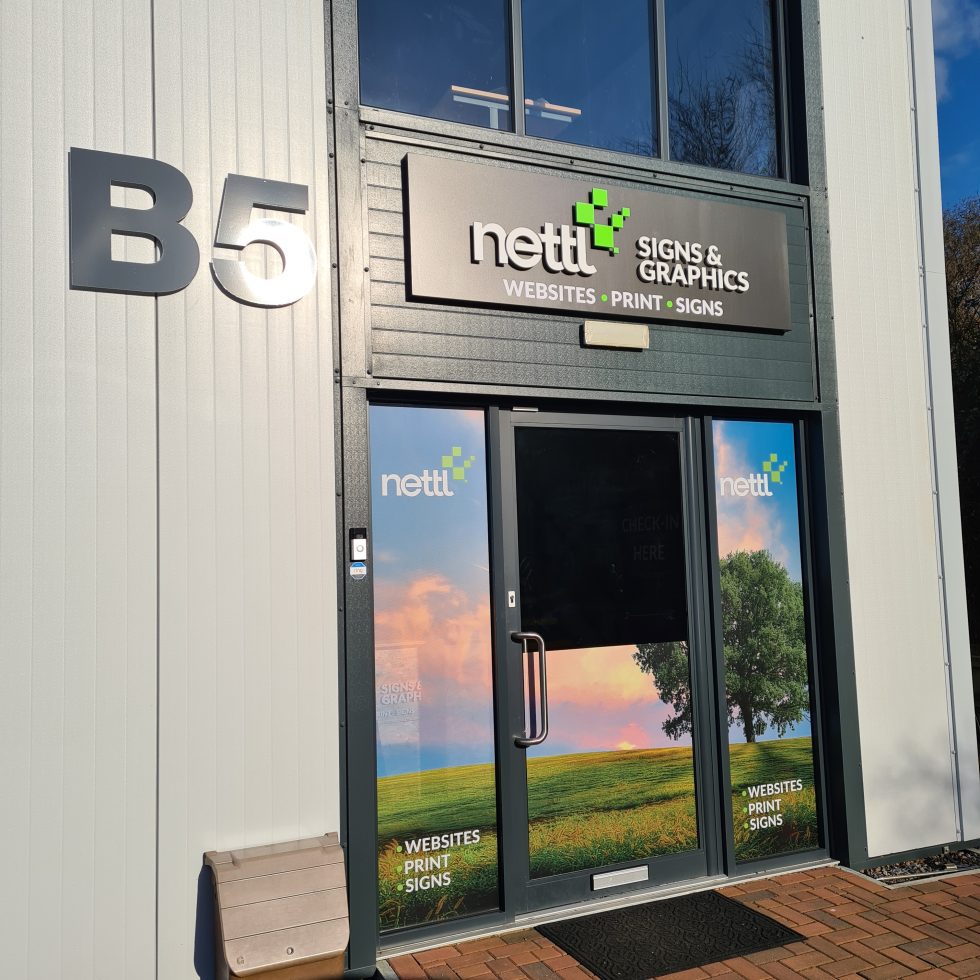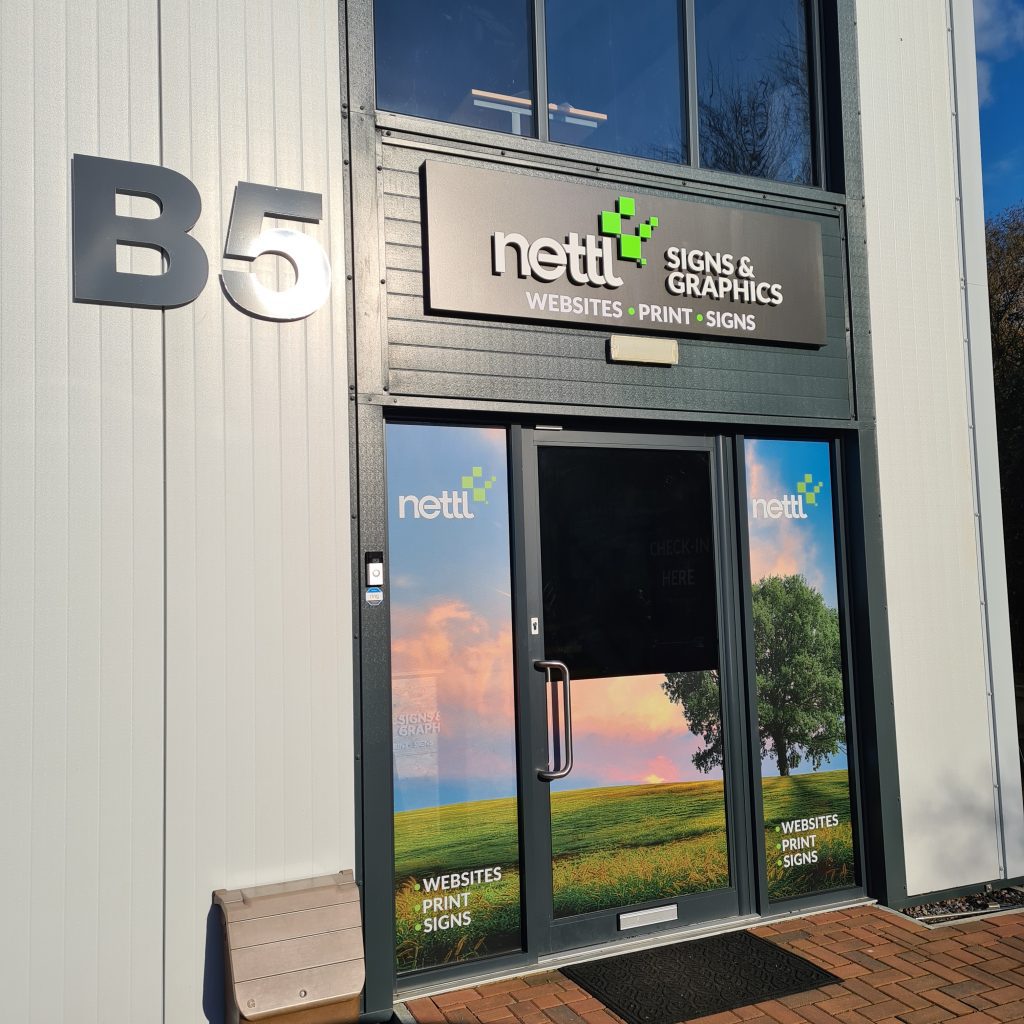 About Our Production unit
We are well established in an impressive manufacturing space for local production and fitting in Chippenham.
Nettl Signs continued investment in state of the art sign making, printing and finishing equipment. It has enabled us to create a high quality work environment that underpins our everyday commitment to exceptional customer service.
What's more, because we print and finish the vast majority of our product range in-house, you can be sure you're buying at the best possible prices, direct from the supplier on the shortest possible lead times. 
From outdoor A frames & pavement signs to shop fascias and external site hoardings. We have the external sign solution to help you attract customers and promote your business.
Our services include:
Frames & Pavement Signs
Banners on PVC with Eyelets
Built Up Letters
Cut or Built Up Signs
Digital Displays
Engraved Plaques
Etched & Frosted Vinyl
External Monolith Signs
Ext Sign Systems
External Site Boards
Flexface Signs
Golf Club Signs
Large External Signage
Pan Signs and Tray Signs
Panel and Pole/Plate and Post Signs
Printed Construction Site Hoardings
School branding
Shop Fronts & Facias
Wayfinding & Directional Signage
Our indoor sign solutions will enable you to transform your office environment, create a great first impression with an entrance display and stop visitors from becoming lost!
Nettl Signs & Graphics services include:
Acrylic Graphics
Built up logo signs
Display For Spaces
Displays For Walls & Windows
Display Furniture
Entrance Displays
Etched & Frosted Vinyl
Exhibition Stands and Displays
Fabric Displays and Booths
Fret Cut Letters
Interior Sign Systems & Office Signs
Promotion For Floors and Floor Vinyl
Print or cut Vinyl Graphics
Vinyl Letters & Shapes
Wall Mounted Signs
Wayfinding & Directional Signage
Window Graphics
We offer the complete service for single vehicle and fleet requirements, including consultation, design & proofing, print, production and application by our own fully trained and experienced specialists at our studio.
Full Colour Vehicle Graphics for cars, vans and coaches designed, printed and installed by one supplier in just a week from receipt of your order.
Vehicle Graphics provide a highly cost-effective form of advertising and brand awareness that works for your business 24 hours a day -7 days a week.
Nettl Signs & Graphics services include:
Commercial Vehicle Branding
Vinyl Colour Change Wraps
Fleet Vehicle Livery
Car Decals Cut & Designed
Dealer Promotional Vehicle Graphics
Logo Vinyl Stickers & Brands
Tradesman Van Graphics
Specialist Vinyl Effects and Wraps
Magnetic Panels
STICKERS & VINYL GRAPHICS
We offer a comprehensive range of Self Adhesive Vinyl products for either interior or exterior applications.
Simply email us your image and we'll advise the suitability for printing on Self Adhesive Vinyl and the maximum size it can be printed at.
Our Standard Self Adhesive Vinyl is an economically priced self adhesive vinyl, ideal for promotional stickers and self adhesive graphics on flat surfaces.
Listed below are the most popular products:
Branding Stickers and Labels
Door Cover Graphics
Floor Graphics & Stickers
Printed Vinyl Labels
Print and Cut to Shape Stickers
Promotional Stickers
Product Stickers
Round or Square Labels
Short Run Cut Vinyl Logos & Graphics
Waterproof Vinyl Labels
Window Vinyl Graphics
Wall Graphics and Stickers
We supply full Colour PVC Banners that are suitable for indoor & outdoor use. All our printed PVC Banners are printed in super rich, vibrant photo quality on 440gsm heavy duty PVC and supplied with reinforced eyelets as standard.
Fabric Textile Graphics are ideal for exhibitions and displays, point of sale applications and retail environments. Fabric Graphics are luxurious, sophisticated and designed to stay looking fabulous.
Nettl Signs & Graphics services include:
Canvas Prints
Curtain Backdrop Fabrics
Curved Fabric Backdrops
Exhibition Banners
Fabric Exhibition Booths
Expo Furniture, Table Covers & Seating
Fence Banners for Advertising
Monsoon Outdoor Banner Stand
Outdoor Event Branding
PVC indoor & Outdoor Banners
Storm Flags & Flag bases
Wind Dancer Flags
Crest Flags
Feather Flags
Quill Flags
READY TO BOOST YOUR BUSINESS?
Get in touch with your local Nettl at Digiprint studio in Bath or Chippenham to take your Web, Print and Signs to the next level
Studio Address:
29 Southgate Street
Southgate
Bath. BA1 1TP
Studio Opening Times:
Monday - Friday 9am - 5pm
Saturday/Sunday CLOSED
Nettl at Digiprint CHIPPENHAM
Studio Address:
5B New Road
Chippenham
Wiltshire. SN15 1EL
Studio Opening Times:
Monday - Friday 9am - 5pm
Saturday/Sunday CLOSED
Nettl Signs & Graphics CHIPPENHAM
Studio Address:
Unit B5 Ashville Court
Methuen Industrial Estate
Chippenham. Wiltshire. SN14 0ZE
Studio Opening Times:
Monday - Friday 9am - 5pm
Saturday/Sunday CLOSED
Over 15 years you have always exceeded our expectations with high quality, economic prices and prompt service. I never need to worry about the work I place with Digiprint Bath.
Address
BATH: 29 Southgate Street
CHIPPENHAM: 5 New Road
Signs: B5 Ashville Court, Chippenham
Call Us
Bath: 01225 424821
Chippenham: 01249 655778
Signs: 01249 655338