Anything over A3 is considered wide format. We have some really funky machines and paper stocks to get your image larger than life. Photo quality prints up to 2A0 for both indoor and outdoor use available.
Wide Format Printing – The History
The history of wide format digital printing is very short compared with that of the print industry overall because wide format digital printing only emerged at the end of last century.
Wide format digital printing has evolved rapidly in the past 15 years and the inkjet technology was pioneered jointly by HP and Canon.
Current wide format print technologies are: Aqueous; Pimented: Dye Sublimation; Solvent; UV (mercury lamps and now LED); Latex (Latest ink type developed by HP)
WE USE ALL HP PRINTERS WITH BOTH AQUEOUS AND LATEX INKS AS THEY ARE ENVIRONMENTALLY FRIENDLY.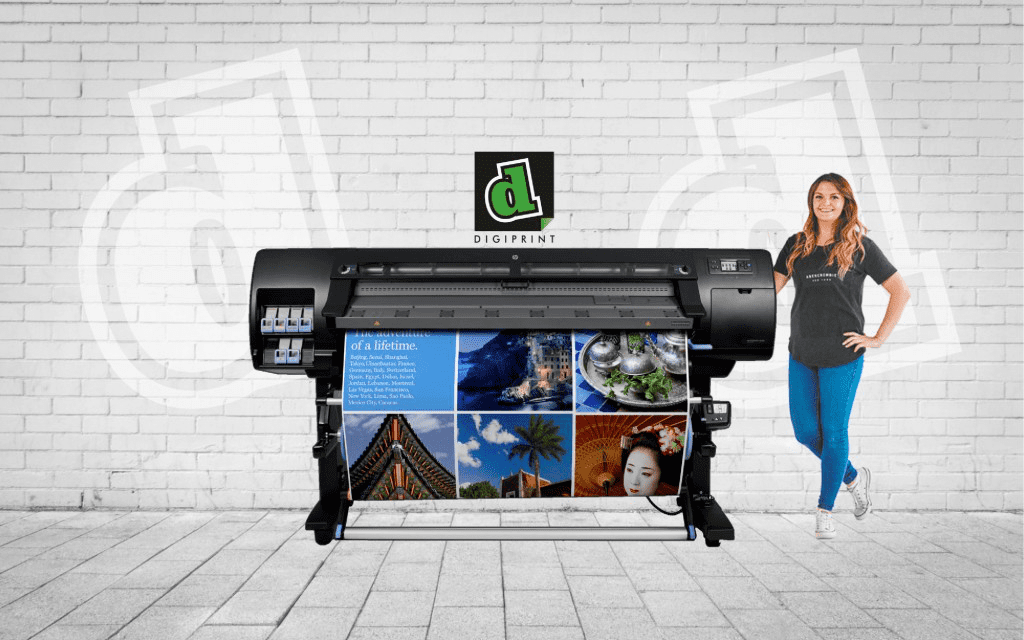 Using the inkjet technology our wide format printers are more economical than other print methods such as screen printing for most short-run (low quantity) print projects, depending on the size and type of substrates.
Our Wide format printers are used to produce products for the POS sector including banners, posters, trade show graphics, wallpaper, murals, backlit film, vehicle image wraps, presentation backdrops and any other large format artwork or signage.
Any project considered as we have massive capacity.
Our prices are based on the "A" paper sizes and we also price per metre squared for larger images.
If you are looking for photo quality, realistic images larger than A3 then our HP Designjet wide format printers are the top choice.
We can print on Photo Satin, Matt, Canvas, Backlit film, Fine Art paper and many other substrates to create bright, vivid, wide format images.
One of the best outdoor printers on the market
HP Latex inks have many benefits over solvent inks, as they are odourless, of a high quality and have significant health advantages. The water based inks are nickel free, non flammable and non combustible.
The fact the ink is odourless means we can print signage for the healthcare industry, Schools and public spaces. Our printer is great at producing high quality, durable outdoor prints. Even unlaminated the prints can last up to three years outside – this rises to five years when the prints are laminated.
READY TO BOOST YOUR BUSINESS?
Get in touch with your local Nettl at Digiprint studio in Bath or Chippenham to take your Web, Print and Signs to the next level
Studio Address:
29 Southgate Street
Southgate
Bath. BA1 1TP
Studio Opening Times:
Monday - Friday 9am - 5pm
Saturday/Sunday CLOSED
Nettl at Digiprint CHIPPENHAM
Studio Address:
5B New Road
Chippenham
Wiltshire. SN15 1EL
Studio Opening Times:
Monday - Friday 9am - 5pm
Saturday/Sunday CLOSED
Nettl Signs & Graphics CHIPPENHAM
Studio Address:
Unit B5 Ashville Court
Methuen Industrial Estate
Chippenham. Wiltshire. SN14 0ZE
Studio Opening Times:
Monday - Friday 9am - 5pm
Saturday/Sunday CLOSED
Over 15 years you have always exceeded our expectations with high quality, economic prices and prompt service. I never need to worry about the work I place with Digiprint Bath.
Subscribe to Our Newsletter
We would love to keep in touch with you and give you a little nudge every now and then to tell you about new products and monthly offers.
Address
BATH: 29 Southgate Street
CHIPPENHAM: 5 New Road
Signs: B5 Ashville Court, Chippenham
Call Us
Bath: 01225 424821
Chippenham: 01249 655778
Signs: 01249 655338