CNC Routing Service in Chippenham. 
Specialist in cutting anything from a letter to complex shapes which can be used in all manor of home and business needs.
NETTL SIGNS & GRAPHICS FOR CNC Routing Service
Professional Custom CNC
Our CNC Machine will cut most materials. Contact Us if you need advice on the type of material you require. Below are some of the materials we use on our CNC machines:
MDF
Plywood
Laminate
Chipboard/OSB
Acrylics
Plastics
Di-Bond
Polycarb
Foamex
Others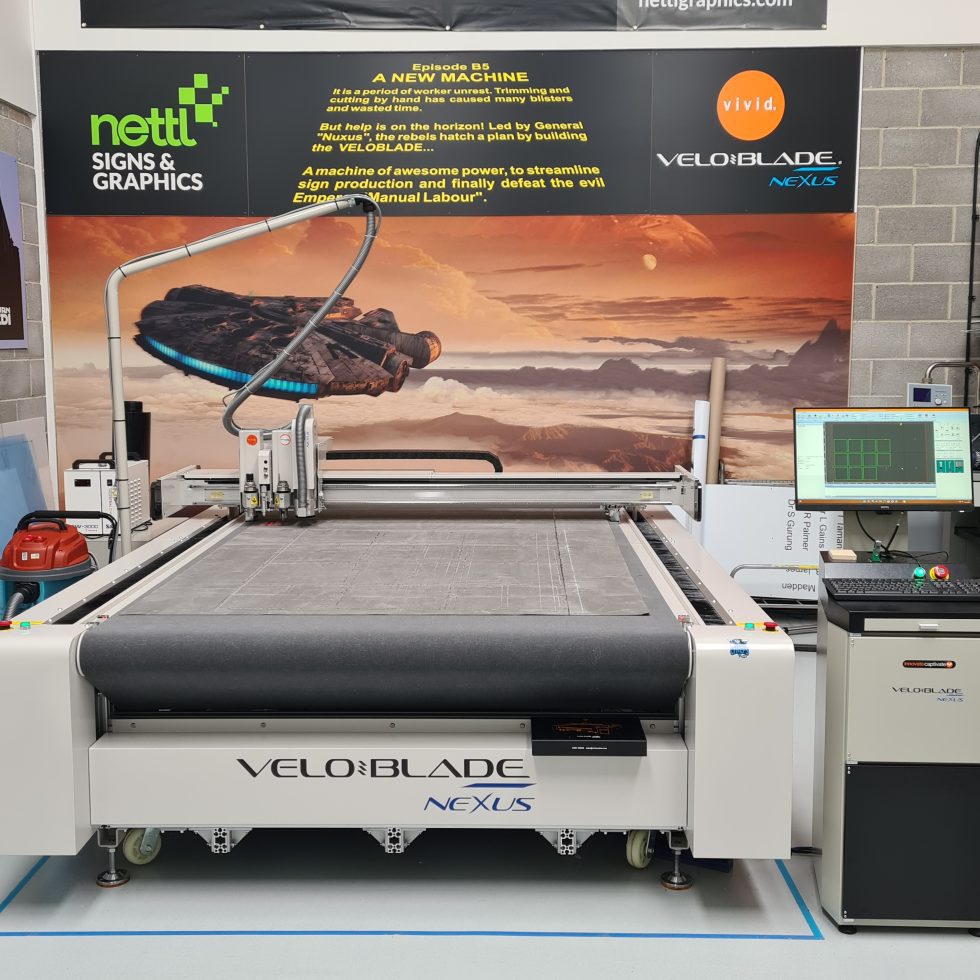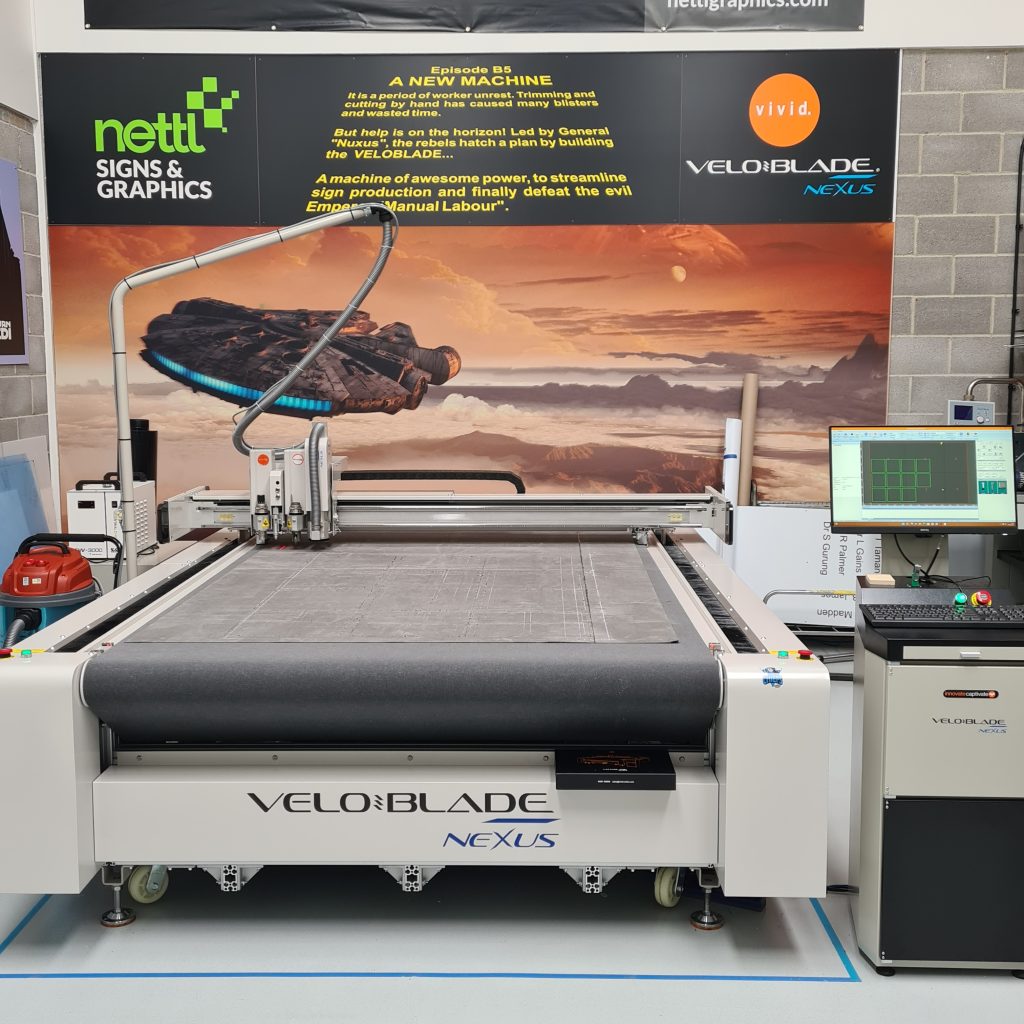 CNC Routing Service with Veloblade Nexus
Our VeloBlade Nexus is a wide-format digital CNC system that operate seamlessly with substrates up to 25mm in thickness. Including; dibond, MDF, fabrics, acrylic and much more! Opening up a vast array of markets for your business to expand in and enabling you to create endless amounts of products with exciting varying materials.
CNC ROUTER FOR 25MM CUT DEPTH
With over 100 tools and accessories to choose from, no matter the finish you are trying to attain you'll be able to achieve it. From knives to provide the perfect cut angle to engraving tools, our range will cover all your needs.
CNC ROUTER FOR 2440mm x 1220mm (8×4) SHEET GOODS
Our Veloblade Nexus has a working flat bed size of 2500mm x 1600mm giving easy cutting and CNC Routing for standard 2440mm x 1220mm sheet goods. 
ROTATING BED FOR ROLL-FED AND SHEETFED PRODUCTION
Whether you're working with sheets or from a roll, VeloBlade Nexus will take control and complete the job automatically. We work from cut ready files as PDF or DXF so ask for help on this or use our design service to get your CNC routing looking it's best.
have your own artwork?
Have your own artwork?  No problems, just send it to us and we will do the rest. 
We accept most formats including: DXF, AI, EPS, DWG and PDF. All must be vector files.
Some organisations prefer to send us prepared files ready for the CNC Machine.  We like to work closely with you to ensure the files are put together in the best cost effective manor.  Our experts will load your file on to our systems and check all is correct.
Its simple….. You send the files to us and we do the rest.
Once you have sent your files to us and we have imported them to our systems, we then send a proof to you.  This way you can see just what it is you are having manufactured or machined.
Once we have your approval, we go ahead and start the cutting.
We carry out work for all types of business and home requirements.  From a simple plaque to a complete shop fit.  We have experience in all areas of carpentry and can advice as to the best way to achieve your aim.
If you have a drawing or art work design already and want to save some money getting the item machined, please send us for file and let us do the rest.
have your own materials?
This is a great way to save money on a project. Have your materials delivered to us for cutting. This not only works well for your budget but can often mean the work is carried out in a faster timeframe.
We understand the "need it yesterday" expression. Working with our CNC Routing Services, we are confident that we will have your solutions dealt with on time.
Working in this way enables us to get on with the work thats needed. You simply get value for money, both with your materials and the time in cutting the material.
No need to worry if you do not have the materials, we can get that as well. What's even better is, we can get it at great prices making you even more savings.
CNC ROUTING SERVICE APPLICATIONS
APPLICATIONS
Architectural Elements + Moldings

Automotive + Boat Trim

Cabinet Doors + Components

Custom Fabrication

Decorative Panels + Screens

Exhibits + Display Parts

Fine Art + DIY Maker Crafts

Forms + Molds

Furniture

Machine Parts

Masonry Forms

Packaging Materials

Photo Relief Carving

Point of Purchase Displays

Prototypes + Inventions

Relief Carving + Engraving

Reproduction + Restoration Parts

Scale Models

Skateboard Ramps

Signs + Lettering

Templates + Stencils

Toys + Games

Woodworking

Workbenches
READY TO BOOST YOUR BUSINESS?
Get in touch with your local Nettl at Digiprint studio in Bath or Chippenham to take your Web, Print and Signs to the next level
Studio Address:
29 Southgate Street
Southgate
Bath. BA1 1TP
Studio Opening Times:
Monday - Friday 9am - 5pm
Saturday/Sunday CLOSED
Nettl at Digiprint CHIPPENHAM
Studio Address:
5B New Road
Chippenham
Wiltshire. SN15 1EL
Studio Opening Times:
Monday - Friday 9am - 5pm
Saturday/Sunday CLOSED
Nettl Signs & Graphics CHIPPENHAM
Studio Address:
Unit B5 Ashville Court
Methuen Industrial Estate
Chippenham. Wiltshire. SN14 0ZE
Studio Opening Times:
Monday - Friday 9am - 5pm
Saturday/Sunday CLOSED
Over 15 years you have always exceeded our expectations with high quality, economic prices and prompt service. I never need to worry about the work I place with Digiprint Bath.
Address
BATH: 29 Southgate Street
CHIPPENHAM: 5 New Road
Signs: B5 Ashville Court, Chippenham
Call Us
Bath: 01225 424821
Chippenham: 01249 655778
Signs: 01249 655338