Digiprint at Nettl work with many Restaurant and hotel chains or independents nationwide to print a range of marketing materials and promotional signage.
Below are just a few examples of what we can do for your restaurant or hotel but please contact us for any bespoke or different marketing ideas you may have.
Delicious quality – All you can eat!

Please download our special Menu of services to get an experience for what digiprint can do for you. We can print or source just about anything to keep your restaurant or hotel looking sharp and performing to its best.
Click here to download our PDF DIGIPRINT MENU
To Nibble on.
At digiprint we have a delicious selection of home-made print and signage to tickle your taste buds.
Sharing Board:
Share our high quality business cards with your customers. Made with a lovely thick 450gsm board and coated with a silky lamination. One of our favourites!
Mini Sticky Labels:
Bite sized labels made from paper or vinyl to use for napkin sealing, special offers, product information or use by dates.
Stationery Platter:
High quality Letterheads, Compliment Slips and Cards can be ordered as a combo pack to keep your image fresh and crisp.
For Starters.
To start you off digiprint have a tasty selection of local produce for info and promotions to help you stand out.
Promotional Banners:
Meaty Latex printed internal or external banners are a must for promoting events, specials or offers.
Leaflets:
One of our basic staples here at digiprint. We take fresh crisp leaves of silky paper and toss them together with great design to get your promotions noticed.
Reservation Cards:
A favourite starter with hotels and restaurants for data capture and registrations.
Backlit Menu Displays:
A light, fresh starter to welcome your guests and customers.
Vouchers and Giveaways:
A juicy discount creates loyalty and return business with our range of bespoke designed vouchers. Delicious!
The Main Event.
Our print and signs are packed so full of goodness we are confident you will enjoy every last morsel. No minimum runs either so order as much as you can eat.
Food Menus:
Our best seller! We can design, print and finish your bespoke menus in succulent quality at the most competitive prices. Tuck in to short runs of menus with digiprint saving you the costly minimum orders!
Drinks Menus:
Our drinks menus can be bespoke designed by our head chef to your needs and finished in waterproof laminations to last longer.
Window Vinyl:
Logos, promotions, websites and menus displayed in your window.
Table Tent Cards:
Showcase your specials, offers and events with trifold tent cards on your tables. A real winner with selected seasonal promotions.
Brochures:
A real treat for your customers! Packed full of information and images, a colourful brochure will showcase your business.
Posters:
High quality internal or external posters promote your events and offers. Printed to your choice of materials and lovingly prepared by our production staff to give you the wow factor.
PromotaCards:
Juicy marketing goodies that promote your specials, events and offers in a small pocket sized card.
On the Side.
Delicious accompaniments to your printing and signage are available.
Bill Pads and Slips:
Delicate leaves of carbonless paper printed bill slips that can be padded into books or glued into sets.
Fascia Signs:
Brighten up your Restaurant, Bar, Hotel or Club frontage with a fresh clean fascia sign board.
Beer Mats and Coasters:
An essential side to have. Promote events, free WiFi, special offers or your brand with bespoke thick absorbent mats.
Workwear and Tshirts:
Turn your staff into a walking advert for your business! got a promotion on? smother them with a Tshirt to tell your customers.
Staff Handbooks
Training guides, Health and Safety booklets, internal management guides and staff hour charts, not exactly tasty fayre but essential none the less!
To Finish.
Finishing touches can make the final product. Digiprint have lots of special touches to add to your mains.
Soft Touch Lamination:
One of our classics. Quality silky lamination to coat your print.
Digital Embossing:
Textured glossy raised varnish adds a special finishing touch.
Folding and Creasing:
Crack free creasing for all your menus and table cards.
Poster wall Frames:
Display and protect your posters with our range of snap frames.
Hanger Bars:
Display banners and posters with our range of finishing touches.
Menu Holders:
We have a large range of acrylic and wooden menu holders.
Specials Board.
We have regular special offers running through all branches so keep in touch for the latest prices and offers on your products.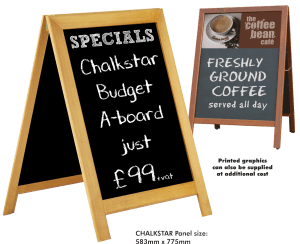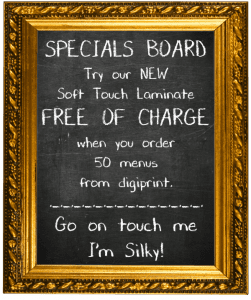 We can print from file either on email or memory stick, or from hard copy.
From one offs to a run of thousands, digiprint can manage your printing and signage requirements. Our papers are FSC graded and our sign materials are from sustainable or recyclable sources wherever possible.
Why go anywhere else?
With so many different suppliers out there, digiprint are now your one-stop-shop for all your print and signage needs. Digiprint Nettl can source almost any advertising product you might need plus some you haven't heard of yet.
Nettl offer a fully bespoke design service working closely with our customers to ensure the design is just how you want it.
We keep all artwork on our secure system so you can re-use designs and elements from them again in the future.
This system means we won't have to hassle you for logos, fonts and images each time you order from us making our turnaround times unbeatable, and our prices? if you can find a high street printer that is cheaper we will match their price!