We regularly post jobs here so check out what new team members we need!
Sign Maker Production Assistant.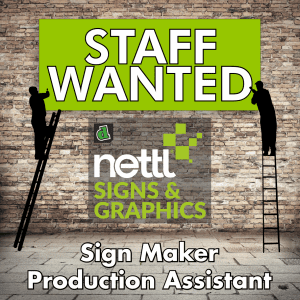 Job Description:
Busy and established Print, Web and Sign making company based in Bumpers Farm, Chippenham with another studio in Bath are looking to recruit a signage production assistant, production/fitter with good practical knowledge and production skills, to ensure customer expectations are met by overseeing product quality and ensuring delivery timescales are met.
What you will do:
We are looking for a "hands on" Sign Maker / Production assistant who has a technical mind and practical hands on skills. Understands the importance of high-quality customer service, will be able to communicate clearly both verbally and in writing, and be a good team member.
Ideally, you will have worked in the signs industry or have a full range of skills and experience such as:
The ability to interpret briefs accurately and an understanding of signage manufacturing techniques.
Visit clients to carry out surveys and document information ready to progress to quotation.
Good attention to detail.
Have reasonable design skills using industry-standard design software such as CorelDraw, Adobe Illustrator.
Be able to complete quotes independently or communicate information to others to provide quotes.
Manage workflow using plotters and large format printers.
Be able to learn application of vinyl onto a variety of substrates including vehicles.
An effective communicator to work within a small team.
Complete paperwork to high standards ready to be passed on for invoicing.
Driving licence essential.
Operational role:
Assisting in the production process, including: managing a production schedule; accept and handling of new orders, scheduling jobs for production, liaising with customers to keep them updated, processing completed jobs for billing.
Ensuring that the production is cost effective, minimise wastage / errors, products are produced on time and to a good quality; follow standards and methods, ensure tools and machinery are maintained and capable of quality, ensuring that all work is checked and quality controlled.
Production Capabilities:
Be able to artwork and produce signage designs and layouts
Be able to operate large format printers, cutters and laminators
Be able to apply vinyl to all substrates and vehicles
Be able to install a wide variety of signs, including vinyl, post mounted signs and shop fascias
What we are looking for:
Successful applicants will be enthusiastic, be able to work on their own initiative, flexible, a great team player, well organised and have an understanding of the importance of health and safety.
Your working hours:
This is a full-time position working Monday to Friday but you will need to be flexible to work outside of these hours if required.
READY TO BOOST YOUR BUSINESS?
Get in touch with your local Nettl at Digiprint studio in Bath or Chippenham to take your Web, Print and Signs to the next level
Studio Address:
29 Southgate Street
Southgate
Bath. BA1 1TP
Studio Opening Times:
Monday - Friday 9am - 5pm
Saturday/Sunday CLOSED
Nettl at Digiprint CHIPPENHAM
Studio Address:
5B New Road
Chippenham
Wiltshire. SN15 1EL
Studio Opening Times:
Monday - Friday 9am - 5pm
Saturday/Sunday CLOSED
Nettl Signs & Graphics CHIPPENHAM
Studio Address:
Unit B5 Ashville Court
Methuen Industrial Estate
Chippenham. Wiltshire. SN14 0ZE
Studio Opening Times:
Monday - Friday 9am - 5pm
Saturday/Sunday CLOSED
Over 15 years you have always exceeded our expectations with high quality, economic prices and prompt service. I never need to worry about the work I place with Digiprint Bath.
Subscribe to Our Newsletter
We would love to keep in touch with you and give you a little nudge every now and then to tell you about new products and monthly offers.
Address
BATH: 29 Southgate Street
CHIPPENHAM: 5 New Road
Signs: B5 Ashville Court, Chippenham
Call Us
Bath: 01225 424821
Chippenham: 01249 655778
Signs: 01249 655338