Looking for quality leaflet printing ? look no further.
Pamphlets, leaflets, flyers. A rose by any other name would sell as sweet.
This proven marketing impresario never gets old. In fact, it remains one of the most trusted forms of marketing today.
Simple yet powerful, this versatile attention-getter comes in a range of sizes and paper types to suit any budget.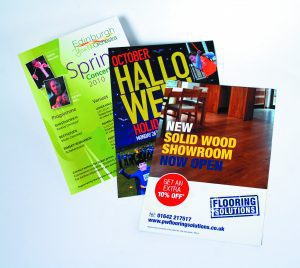 Our popular 150gsm gloss is thicker than an average leaflet, glossy and luxurious.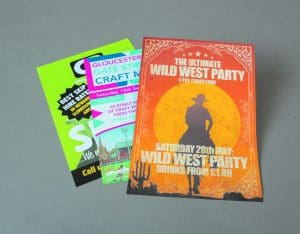 120gsm premium stock with uncoated natural finish. Made from 100% recycled fibres.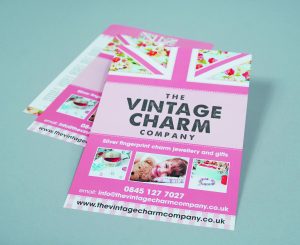 170gsm silk art paper feels super thick and smooth with a refined silky finish.
Flyer & Leaflet Printing
Choose flyer and leaflet printing from Nettl digiprint to promote your business in style.
Our Leaflets are available in a range of sizes, styles and paper finishes to ensure your upcoming event or special offer stands out.
You can upload your own design or work with our team of designers and receive your leaflet printing within 48 hours with free next day UK delivery.
A well-designed leaflet can make all the difference when you're trying to build relationships with clients or attract new ones. knowing what information to include, as well as the best paper type and size to choose can be challenging.
That's where we come in. We can help you create attention-grabbing, high-quality business leaflets that reflect your brand.
Whether you've got an upcoming event or special offer, choose our leaflet printing to help you spread your message with confidence and style.
Take advantage of our wide range of paper sizes, including square or strip leaflets to make a statement or A5 and A6 leaflets for the perfect door drops. Don't forget the finishing touch, including perforated edge for that attention-grabbing call to action or creased leaflets for frontloading your information without overwhelming your customers.
Opt for gloss or silk leaflets for luxurious quality to really set your business from the competition.
READY TO BOOST YOUR BUSINESS?
Get in touch with your local Nettl at Digiprint studio in Bath or Chippenham to take your Web, Print and Signs to the next level
Studio Address:
29 Southgate Street
Southgate
Bath. BA1 1TP
Studio Opening Times:
Monday - Friday 9am - 5pm
Saturday/Sunday CLOSED
Nettl at Digiprint CHIPPENHAM
Studio Address:
5B New Road
Chippenham
Wiltshire. SN15 1EL
Studio Opening Times:
Monday - Friday 9am - 5pm
Saturday/Sunday CLOSED
Nettl Signs & Graphics CHIPPENHAM
Studio Address:
Unit B5 Ashville Court
Methuen Industrial Estate
Chippenham. Wiltshire. SN14 0ZE
Studio Opening Times:
Monday - Friday 9am - 5pm
Saturday/Sunday CLOSED
Over 15 years you have always exceeded our expectations with high quality, economic prices and prompt service. I never need to worry about the work I place with Digiprint Bath.
Subscribe to Our Newsletter
We would love to keep in touch with you and give you a little nudge every now and then to tell you about new products and monthly offers.
Address
BATH: 29 Southgate Street
CHIPPENHAM: 5 New Road
Signs: B5 Ashville Court, Chippenham
Call Us
Bath: 01225 424821
Chippenham: 01249 655778
Signs: 01249 655338