Branded giveaways work so well in marketing. Cool stuff
gets noticed instantly. But seeing a brand each and every
day does magical things.
Create a long-lasting impression by sending useful branded gifts to your best customers. They'll get feel-good vibes each time they use it.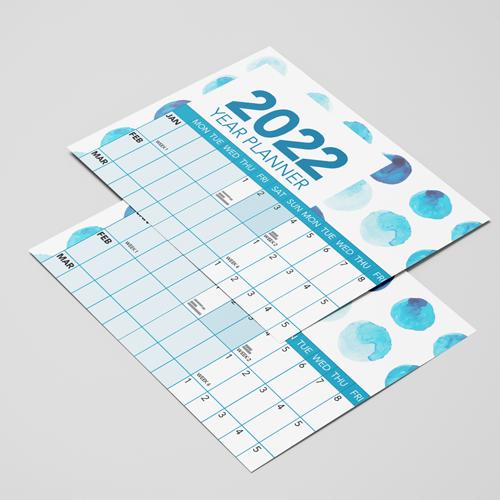 Our Wallplanners have the whole year displayed at once. Choose from large A2 or Super A1 "Big Boy". Remember, the bigger the Wallplanner the more space it'll demand on the wall. Whoever said size doesn't matter was clearly a Larry Liar.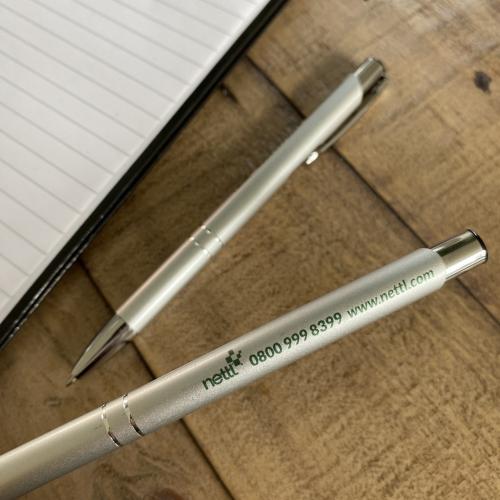 Our aluminium ballpoint pens have a click-action mechanism, lacquered finish, polished shine, and striking chrome details. They can be printed with up to 4 spot colours to a 60 x 6mm print area and are available in BLUE INK ONLY.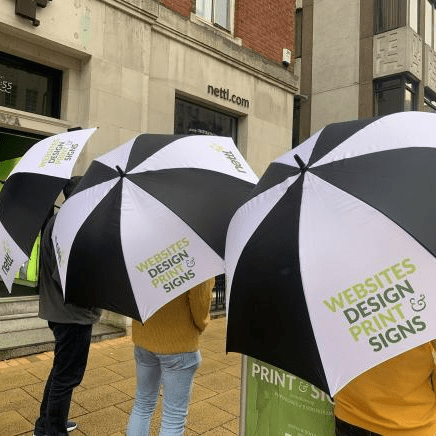 Promote your brand on a rainy day! No-one likes a soggy client so it's always good to have a branded umbrella on hand.  These large 60" canopies are a great addition to the office for escorting clients on site or as a luxury give away at events.
Bespoke Branded Giveaways for ultra-slick business promotion.
Preparing to exhibit at a UK event this year? Whether you're planning a presence at a trade show, consumer event or industry exhibition, our wide range of event branded giveaways is here to help.
From printed lanyards to custom stress balls, we have a huge range of event merchandise, all ready to print with your logo today.
Looking for décor to help you stand out in even the busiest of venues? Browse our range of attention-grabbing balloons, banners and bunting.
Want low-cost event merchandise that will generate long-lasting awareness? We have promotional fridge magnets, branded wristbands, novelty giveaways and so much more. Browse the full range just search giveaways in the main shop!
READY TO BOOST YOUR BUSINESS?
Get in touch with your local Nettl at Digiprint studio in Bath or Chippenham to take your Web, Print and Signs to the next level
Studio Address:
29 Southgate Street
Southgate
Bath. BA1 1TP
Studio Opening Times:
Monday - Friday 9am - 5pm
Saturday/Sunday CLOSED
Nettl at Digiprint CHIPPENHAM
Studio Address:
5B New Road
Chippenham
Wiltshire. SN15 1EL
Studio Opening Times:
Monday - Friday 9am - 5pm
Saturday/Sunday CLOSED
Nettl Signs & Graphics CHIPPENHAM
Studio Address:
Unit B5 Ashville Court
Methuen Industrial Estate
Chippenham. Wiltshire. SN14 0ZE
Studio Opening Times:
Monday - Friday 9am - 5pm
Saturday/Sunday CLOSED
Over 15 years you have always exceeded our expectations with high quality, economic prices and prompt service. I never need to worry about the work I place with Digiprint Bath.
Subscribe to Our Newsletter
We would love to keep in touch with you and give you a little nudge every now and then to tell you about new products and monthly offers.
Address
BATH: 29 Southgate Street
CHIPPENHAM: 5 New Road
Signs: B5 Ashville Court, Chippenham
Call Us
Bath: 01225 424821
Chippenham: 01249 655778
Signs: 01249 655338